At Strategic Initiatives, we believe there is nothing greater then a successful family business and wealth controlled by a healthy family. We also know that without careful attention, the family businesses can become a place of enormous heartache and stress for family members, in-laws and non-family executives.  There are countless families that have been torn apart through avoidance of family business conflicts or through seeking legal remedies.
In working with family businesses and wealth we look at four central areas; the family, each individual, the core business and the family wealth as a whole. This is because they are all intertwined and impact each other. We see ourselves as Coaches working with the family as a total system to create a higher level of teamwork, for each individual to be living in alignment with their highest values, the business to reach its long-term Strategic Objectives and for the family wealth to be preserved over generations. We begin with an Overall Assessment of these areas. This Assessment takes places through private structured interviews, family wealth assessment questionnaire, and document analysis.
Just like when a person enters the Dr.'s office because they don't feel well, the Dr. begins with a diagnosis.  The same is true for us.  Because the stress is felt in one part of the family or the business – does NOT mean that this is the cause. A careful diagnosis assesses and differentiates the causes from the symptoms of the stress. We also look at various financial, marketing and strategic business data. Often we attend Executive, Management and Board of Directors Meetings to assess the effectiveness of these meetings as well.
The Assessment includes a Seminar where family members as a group discuss the family's strengths and weaknesses in facing current challenges. The Seminar concludes with identifying the overall goals that this family needs to reach and the specific steps they should take to reach them.  We call this the Family Strategic Roadmap. We also provide a timeline for the family to complete the process in an efficient way.
The Assessment determines what is recommended. Most often we recommend a combination of several services. We act as a Coach and Facilitator for Family and Business Meetings. We are experts at helping the family face difficult business challenges like leadership succession as a team. We do not give solutions. Rather we help the Family and Leaders and family as a whole to discuss and decide their future together.   Our work may be on a weekly, monthly, quarterly or annual basis.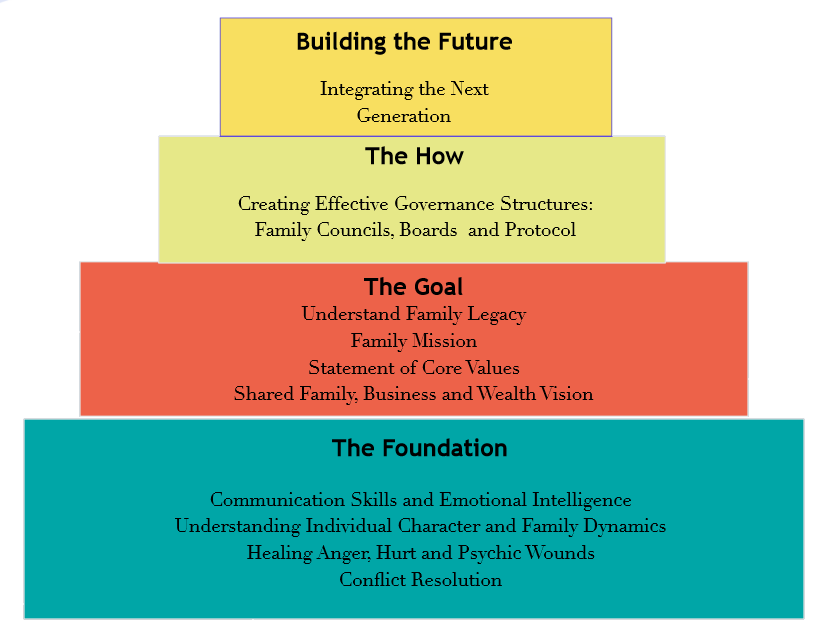 This generic Roadmap begins at the base of the pyramid which we call "The Foundation".  Like a beautiful home, if the foundation is not strong, no matter how big and beautiful the house, it is destined to a short and unpleasant life.  The foundation in most families includes the critical elements listed here – ability to communicate effectively, reasonable emotional intelligence, ability to deal with hurt and angry feelings constructively, understanding each individual's character, etc.
The second phase is often the setting of the goals of the family, its core business and wealth. This vision is often developed through creation of a Family Mission Statement, Statement of Core Values, Legacy, as well as Personal and Business Vision.
Once these two steps are in place, we then focus on building a Governance Structure that fits this particular family.  Often this includes the development of a Family Constitution, as well as a Family Council, a Family Office, Board of Directors and various kinds of Shareholder Meetings.  We often call this "The Blueprint Stage".  In essence this is a picture of the kind of governance structure that is needed.
The Fourth Phase is the Implementation Stage and includes Integration of Younger Generation(s).  We find that then younger generations typically love this work – they know this is for them – they have usually witnessed great conflicts between their parents and uncles/aunts or grandparents and are hopeful to avoid deep conflicts in their future.
All of our activities are designed specifically for the families, individuals and organizations we are working with. We are proud to say that most of our clients work with us over a period of several years. Deep change never happens quickly or without a trusting relationship. Generally, we work more with our clients in the early stages of the consultation. Then we are involved in training organizational personnel in various forms of expertise.  We encourage evaluation of our work and are most proud of those clients who found our work deeply helpful for their family and business ten or more years later.