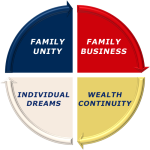 The challenge of family business leadership and family wealth preservation is to create families and business organizations that inspire us. Ones that not only serve personal ambitions but that also reinforce our integrity, our optimism, our faith in democratic processes and our ability to learn. Will the next generation build, destroy or sell the business? Will the family thrive or fragment? Will the next generation sustain the family's legacy? What core values should guide this family in the future?
We believe there is nothing greater then a successful family business or family office controlled by a healthy family. We also believe that family businesses often become places of enormous heartache and stress for family members, in-laws and non-family executives.
Few Family Businesses succeed from one generation to the next due to the difficulty of managing the family's dynamics and changing individual developmental needs. We believe that Family Business Leaders face not only all of the enormous challenges of Business Leadership but also the task of mentoring the next generation. Successful family businesses find ways that utilize the wisdom of the elders and the enthusiasm of the next generation. The goal as we see it, is family, wealth and business growth and continuity. The challenges of meaningful family life and business expansion are enormous and often pull families apart.  Can we build family businesses that we are proud of and that inspire us? Ones that face hard business realities well and the softer needs of family life also.
We believe that the overall goal for family business members should be to develop a family and organizational environment that creates an atmosphere of caring and competence to encourage dialogue, responsibility, innovation and a commitment to developing the vision of the business.  Each family and individual brings their own unique strengths and skills to meeting the monumental tasks of creating success in business, family and individual development over time. The inherent and particular complexities of each family business is viewed as part of their strength and critical to the business and family development.
We always begin our work by listening to the family and key non-family executives as to the special strengths, complexities and difficulties the family is facing. We are proud to share that we were one of the first companies to specialize in this field. We studied with several of the early creators of the field: Leon Danco, Dick Beckhard as well as Kenneth D. Benne and Jack Gibb. We gave some of the first seminars on Family Business in a number of countries including Chile, Peru, Colombia and Thailand. We presented in some of the first professional conferences about Family Business in Europe (FBN) and in the USA. We also were some of the first to present to professional legal and financial associations on working with privately – held businesses effectively.
We have had the privilege to work with many families and businesses of many sizes and have learned from each of them, including a number of market leaders. We bring these lessons as well as lessons from our own family business to our clients. We actively pursue continual learning in our field's professional associations.