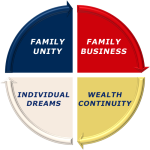 Identifying Personal Strengths and Challenges and Job Role/Performance – this includes a psycho-vocational assessment to determine each individual's natural strengths and learning challenges as well as development of performance review systems for family executives.
Leadership, Family and Life  Coaching – individualized coaching to assist Family Business Leaders and All Family Members in realizing their dreams.  Special focus is paid to unconscious blocks or sabotages to success.
Emotional Intelligence Skills – training in understanding and improving each member's emotional intelligence particularly in regards to family, family business and family wealth arenas.  We focus on how to deal intelligently with the difficult emotions that often arise in family business and family wealth sustainability.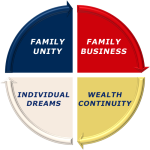 Communication Skills – All healthy family businesses require adequate levels of communication, emotional intelligence and conflict resolution in order to dialogue constructively.  It is in this area that the ability to hold family wealth and businesses over generations break down.  All successful families must learn how to have effective dialogue about critical issues.  We consider this one of the foundation pieces to success for most families.
Development of a Shared Vision, Mission and Statement of Core Values – This is part of the backbone or the glue in holding families together in the times of generation shifting.  It is the base for each generation to determine their common vision, values and purpose in being together.
Family Workshops– we have facilitated over 100 Family Works both generationally and with three generations in the room to improve and deepen Family Unity. These Workshops in such topics as The Purpose of Money, Building Emotionally Intelligent Families, Communication and Conflict Resolution Skills build Family Esprit de Corps and the development of critical skills for identifying and meeting the family's dreams.
Estate Planning and Wealth Transfer – we assist the families in determining their goals in wealth transfer and the effects of the estate plans on the family.  We work with Estate Planners, Financial Planners and others to make sure the senior generation's plans in fact accomplish their deepest goals.
Family Council – we often assist families in creating special forums to dialogue the key issues as well as develop and govern the evolution of the family and its wealth over generations.  Family Councils are key to keeping the family dynamics out of the board room.
Family Governance Structures and Policies – this specifies decision-making both in the family, between shareholders regarding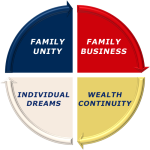 wealth and business.  The governance structure specifies who makes what decisions, how, and how shareholder conflicts will be resolved.
Family Protocols and Constitutions – we assist families in writing the "Rule Book" for working in core business, how to inspire entrepreneurship, how to motivate top performance of family executives and to enter and leave both the management and ownership of a family business. This is the backbone of the Governance Structure and develops all policies in sustaining the family ownership and leadership of the wealth and the business over generations.
Board Development – many family companies struggle due to the lack of a professional advisory or legal board of directors.  We help the family create effective boards.
Succession Planning – we create plans and processes for effective succession of not only ownership but of executive leadership in the core business.  We also look at the transfer of power, wealth and leadership from one generation to the next.
Conflict Resolution and Relationship Enhancement  for Family Shareholders – We are well known for our work in this area – resolving conflicts between family shareholders peacefully so that they can maintain shared ownership, if desired.
Development of High Performance Business Strategy and Culture.  For families with operating core businesses – this is the engine of the wealth.  We work with business leaders in enhancing the profit and productivity of the core business.  We often work together with top Strategic Planners in this regard.
Performance Review Systems for Family Executives – we have been leaders in working with Human Resource Professionals in developing appropriate Balance Scorecards and Performance Review Systems for family members working in the company.
Team-Building for Family Executives – we create specialized program that help Family Executives work together more productively as a Team.
Understanding the Family and Business Legacy and – identifying the glue and strengths that have promoted the success of the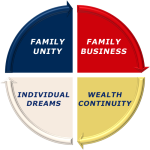 family and business and defining the core values upon which future decisions will be made.
Family Office Development – families often develop a need to create a Family Office or what we sometimes call a "Family Wealth Council".  If the family wishes to preserve its wealth generationally, planning, governance and reporting mechanisms are crucial to long-term success.  We work with Financial Planners, Attorneys and Specialists in this regard.
Development of Dashboard and Family Wealth  Strategic Plan –Does the family wish to hold certain assets together over generations?  We work with top Family Offices, Financial Planners to assist the family in developing the kids of Family Office that is right for them.  We stress that those families who are looking at second and third generation transfers, determine how the wealth be distributed and controlled in terms of the family's values, vision and mission.